Dear Fellow Property Owner-
First and foremost, thank you for your continuing membership with the Deep Creek Lake Property Owners' Association. On behalf of the Board of Directors, I hope you enjoyed 2018 at Deep Creek Lake.
It's that time again to renew your membership. Dues are just $30 per year - directions on how to pay them are below my signature in this email and as we told you in an earlier email, we've rolled out an online dues payment process to make it even easier. Already convinced? Click here to jump down to the dues renewal process.
Need more convincing? We think the the $30 annual dues for membership is the best value on the lake. Our mission is to advocate on behalf of our members, many of whom are part-time residents of the Deep Creek Watershed. In so doing we strive to promote, preserve, and protect the quality of life, recreational opportunities, and historic sites and areas on the lake and its watershed. Your dues support this mission in a variety of ways.
Communications: In 2018, we sent our members over 50 eBlasts and published 4 issues of our quarterly newsletter, The Dispatch to our members. Many of the news items in the emails and newsletter were exclusive to POA members or were published well before they were available publicly. Some of these important topics included: wake surfing, sediment mitigation, hydrilla treatment, sewer spills and many more. You can see our news archive here. We also worked with the Natural Resources Police and Lake Management staff to design, publish and distribute Safe Boating and Safe Towing brochures. These materials are available at all boat access locations throughout the lake and help make everyone safer by educating both locals AND visitors.
If your membership lapses, you'll miss out on timely and critical news items, and limit our ability to continue lake safety education efforts.
Representation and advocacy: The POA represents property owners' interests at the Deep Creek Lake Policy Review Board (PRB) meetings. The PRB is the primary avenue for policy and budget changes for the state management of the Lake and by law, the POA has a seat on this critical advisory body. Some of the important issues addressed this year by the PRB included PWC restrictions, additional buoy installations, disposition of lake management funds and more. Check out our recent Dispatch article on the importance of having a vote on the PRB here. We also serve on and attend the meetings of all relevant county advisory boards and committees (including the Marcellus Shale Drilling, Watershed Management, Planning Commission, Emergency Planning). At the state level, we advocated for the State Lakes Protection and Restoration Fund which was funded at $1M and is used to protect and preserve state owned lakes. We also hold two public meetings per year that are attended by representatives of public entities that manage all aspects of the lake – these meetings provide our membership the opportunity to engage with these officials directly.
Our unpaid Board members take the time to attend these meetings, and do the background legwork to serve on committees to ensure fair representation of Lake and watershed area property owners' interests (many of whom are deprived of a vote for local officials since they are second home owners).
In recognition of the work we have done that "that demonstrate(s) improvements in lake/reservoir condition or watershed management in a cost-effective manner", the North American Lake Management Society (NALMS) awarded the POA with their 2018 "Lake Management Success Award". The receipt of this award was also officially recognized by our State Senator, George Edwards.
A healthy membership helps us to make stronger cases to officials and other stakeholders when we are representing your interests.
Support to critical projects:

Although we are not primarily a funding organization, we are in a unique position to provide critical, just-in-time funds for important projects. In 2018, we provided funding to design, purchase and install signs

on all major roadways around the lake to help

prevent the spread of aquatic invasive species

. We also paid for the construction and installation of bait disposal boxes at four locations around the lake. In prior years, the POA has provided funding for critical lake preservation efforts such as hydrilla treatment, gypsy moth control and sedimentation studies. We have been recognized by the County's Health Department for improving community health by funding efforts such as AED's for County Sherriff vehicles, CPR dummies for EMT training, and our contributions to safer High School Prom social events. And, of course, we sponsor the annual Fourth of July fireworks display at the lake that everyone can enjoy.
Your dues help us to provide funding to these types of projects which benefit all lake area and watershed property owners and would have likely foundered otherwise.
If you're still not convinced and don't plan to renew your membership, we would be grateful if you would take a few seconds to complete this three question survey here. This helps us provide better service to our members and hopefully move the scales enough for you to join!
You've already made a (likely sizable) investment in this beautiful area - make sure you spend the extra $30 per year to help protect that investment! We're looking forward to having you on board for another year!
Best regards,
Chris Nichols
VP Membership DCL POA
301 616 7881
---
Via paper form and mail:
Simply click HERE and follow the directions to download the form and send in your payment.
Online:
Just click on the link below:
https://deepcreeklakepoa.z2systems.com/np/clients/deepcreeklakepoa/setLogin.jsp?secureId=YSyJfpSfY5Bu-D0vjm5rz1R-bnmZxz2fYkWJM8ZoowmdxAmAKPgK4PmzbCeEDB2J&
You should see a screen as below. Pick your own login name (it can be your email) and password: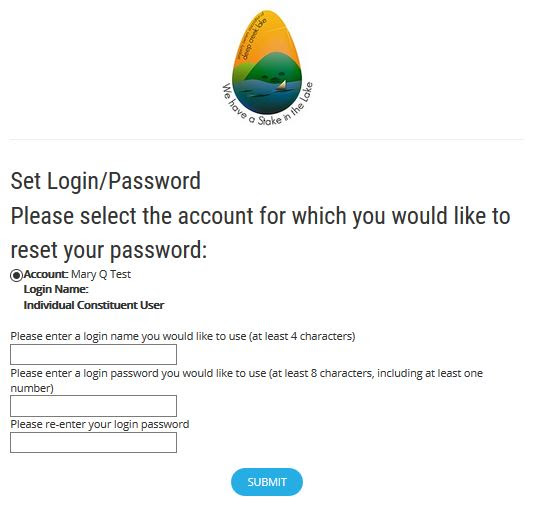 Now you can use the dropdown menu "What would you like to do" to pay your membership dues by selecting "My Membership"
Select your membership type (contact me if you're unsure what type of member you are) and you'll be taken to a secure payment screen. Fill out your payment information and submit - you're now a fully paid member of the POA - thanks!
Once you've paid, you can go back to the dropdown to update your personal information, add a picture, social media sites, etc. There are lots of other features like event and volunteer management we hope to roll out soon.
Please don't hesitate to contact me if you have any questions or issues during the process!